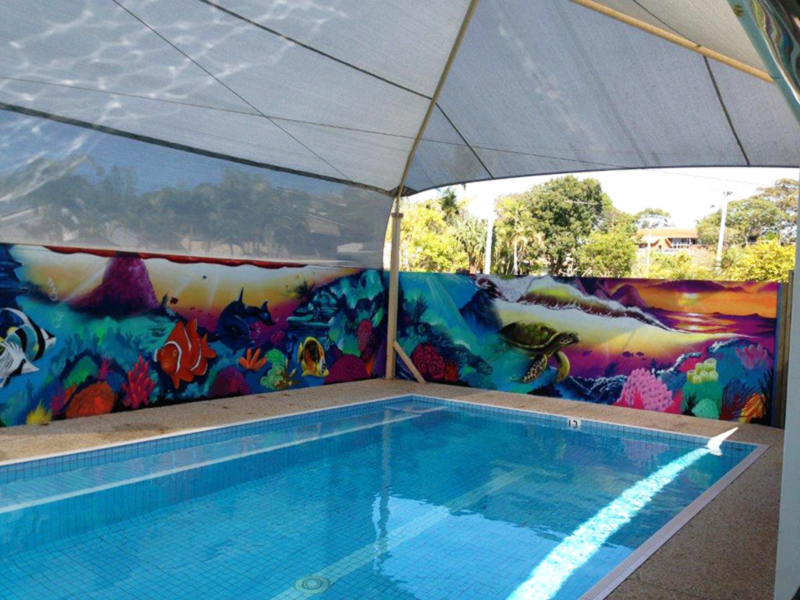 30 Jul

Our New Wall Mural
It has been a very busy week at Gina's Blue Water Babies Swim School.
Gina has been preparing the swim school to open for the new swim season on Tuesday the 5th of August .  We wanted to create a fun and exciting place for the children to come back to swim lessons.
Preparing the swim school for the new season takes time and thought, she contacted a Brisbane based Graffiti Mural Company called " Graffiti Murals " to paint a mural in the swim school. The mural painted has been painted on the surrounding walls of the swim school and looks amazing !!!!!
The mural was painted to stimulate and excite the children returning to their swim lessons . It is a colourful and happy enviroment at Gina's swim school.
Gina wanted to share with the children the wonderful ocean we all have at our door step and to feel relaxed and excited about coming back to swimming lessons. The mural was painted to stimulate the childrens imaginations of all the adventures we all can have in the ocean and swimming pools.
Water is calm, nurturing,relaxing but also can be very dangerous. Learning how to swim and developing strong swimming skills is important for every child.
Gina has been teaching swimming for 20 years and specializes in young babies from 8 weeks old to 5 years of age. She is passionate and loves teaching children how to swim.
Gina has just come back from attending a conference in Alaska called" BOAT CAMP 2014". The key speaker was Jeff Metzgers . He is a world famous speaker on small business  .
Gina always attends conferences overseas to expand her knowledge on business and child  swimming development.
Book in now for swim lessons!
Contact Gina on ph 54461087
Save