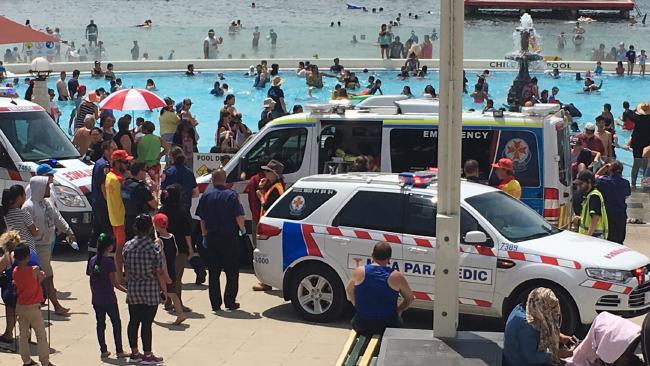 21 Feb

Boy, 5, nearly drowns at Eastern Beach on Australia Day
FIVE-YEAR-OLD boy dragged unconscious from the water.
Original article by: MARGARET LINLEY
www.geelongadvertiser.com.au
Image source: Geelong Advertiser January 26, 2016
A FIVE-YEAR-OLD boy was dragged unconscious from the water at Eastern Beach just after 2pm on Australia Day.
Lifeguard-in-charge Oliver Gant said the boy was lucky to be alive.
'These two adults, not his parents, have lifted him out of the water unconscious,'' he said.
Charlie Francis, 17, and in his first season as a lifeguard, said it was "nerve-racking".
"The training kicked in pretty quickly and you think back to basics,'' Mr Francis said.
The young boy was breathing and regained consciousness shortly after being lifted from the water.
Mr Gant called on parents to be more vigilant and said they were required to be in the fenced area, not on the other side of the gate, when their children were using the pool.
"It's common sense," he said. "It's written on the gate. The boy was not being supervised. He was small. He could easily have stepped out of his depth, one gulp of water. It happens very quickly."
He said parents needed to be within an arm's length of their children while they were in water.
Four ambulances and the police attended. The boy was taken to Geelong Hospital in a stable condition.
Mr Gant said the boy was part of the second rescue at the popular swimming spot this summer.
Save